Microwave jacket sweet potato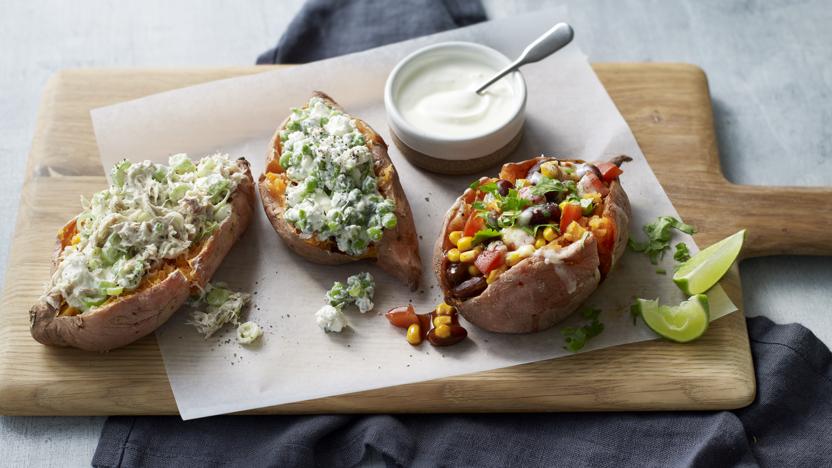 Microwave jacket sweet potatoes make a wonderfully quick and easy meal. Take your pick of these three delicious fillings, or make all of them! The veggie chilli makes enough for four portions, great for lunch tomorrow. The smoked mackerel and pea fillings each make enough for two portions.

This recipe was tested using a 900W microwave oven. If your oven has more or fewer watts, you will need to adjust the cooking time.
Ingredients
For the smoked mackerel filling
For the pea and feta filling
For the veggie chilli filling (serves 4)
Method
Prick the sweet potatoes two or three times with a fork and put on a microwaveable plate. Microwave on high for 5–6 minutes for one potato or 7–8 minutes for two. Test the potatoes are soft by inserting a skewer through the middle, it should slide in easily. If the potatoes remain a little hard, cook for longer, testing again every 30 seconds. Divide the potatoes between plates, make a cross in the centre and open to fill.

To make the smoked mackerel filling, mix all the ingredients together and season with lots of black pepper.

To make the pea and feta filling, microwave the peas on high for 2–3 minutes, until thawed and just warm. Mash them with a fork, until well broken up, then mix in the feta, yoghurt and mint. Season with lots of black pepper.

To make the veggie chilli filling, put the red pepper in a large microwavable bowl and cook on high for 1½–2 minutes, until soft. Add the beans and sweetcorn in its water, stir well and microwave on high for 4–5 minutes, until hot. Stir in the lime juice and mix well. Spoon into the cooked sweet potatoes and top with the cheese. Microwave for 1–2 minutes, until the cheese melts. Top with the soured cream, coriander and lime wedges.
Recipe Tips
If you are cooking four potatoes, you will need to microwave for 10–12 minutes. If cooking more than two, turn the potatoes halfway through cooking.