Companies are wrestling with how to bring staff back to the office in a safe and fair manner. One US firm has created an algorithm to try and solve the puzzle.
N
New York City-based start-up SquareFoot helps clients find office space in cities around the world. Today, however, the company faces a different real-estate problem: SquareFoot employs roughly 60 people, but its Manhattan office can safely hold only 27 people under the health and safety guidelines suggested by the city, state and US Centers for Disease Control. The old system of squeezing people in at open-plan tables just can't work anymore.
The office "used to be a place you go", says CEO Michael Colacino. "Now it's like oil or fresh water. It's a resource you have to conserve, allocate and think about as something totally different than a meeting place."
As pandemic-hit nations tentatively evaluate returning to the office, thousands of companies face similar versions of SquareFoot's conundrum. Some firms have already extended work-from-home policies for non-essential employees into 2021, while others have announced permanent cuts to physical office space. Many companies are adopting a 'hybrid' model of office use, with employees dividing their time between remote work and in-person office time.
But that model presents a thorny scheduling challenge that demands answers to a host of questions: what's more important – letting teams have in-person time together, or exposure to colleagues from other parts of the company? How do managers adjust schedules as different people start and finish group projects? Does everyone have equal access to face time with the boss, and to the kind of visibility that leads to promotions and choice assignments?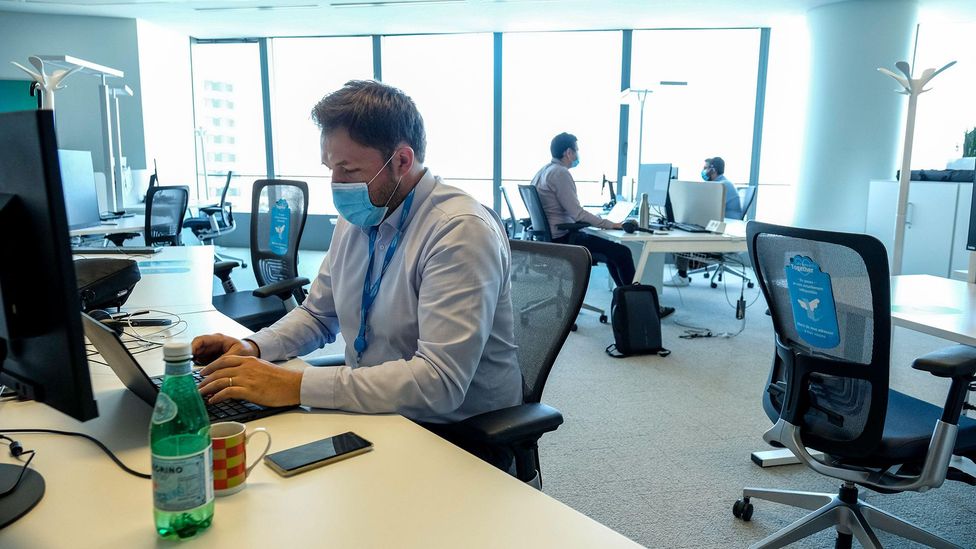 Workers in Paris, where masks in offices have been mandatory since 1 September (Credit: Alamy)
Is AI the answer?
SquareFoot's business is building digital tools to help clients find office space in crowded cities. It's now using those tools to find a workable solution to its own space crunch. It has come up with an algorithm that it hopes will allocate access to office resources in a way that best accommodates the needs of individuals, departments and the business as a whole.
The company started by surveying its department heads about the specific needs of each sector of the business. Questions focused on four key areas: amenities, location, communication and personal development. They dived into the details, taking inventory of the physical tools each team required to perform their jobs, from high-speed internet and limited-license software to whiteboards and access to mass transit.
The office 'used to be a place you go. Now it's like oil or fresh water. It's a resource you have to conserve' – Michael Colacino
They also dug into each department's communications style and personnel make-up, tallying the amount of in-person discussion and passive information sharing each team engaged in, and their need to provide further training and relationship building for individual members.
With that data in hand, the company then built the AI tool that determines its scheduling. Employees who want office time submit a request to the system at least 24 hours in advance. If more people want to use the office than the space allows, the system evaluates each request based on factors like the employee's job function and the amount of office time they've had that week.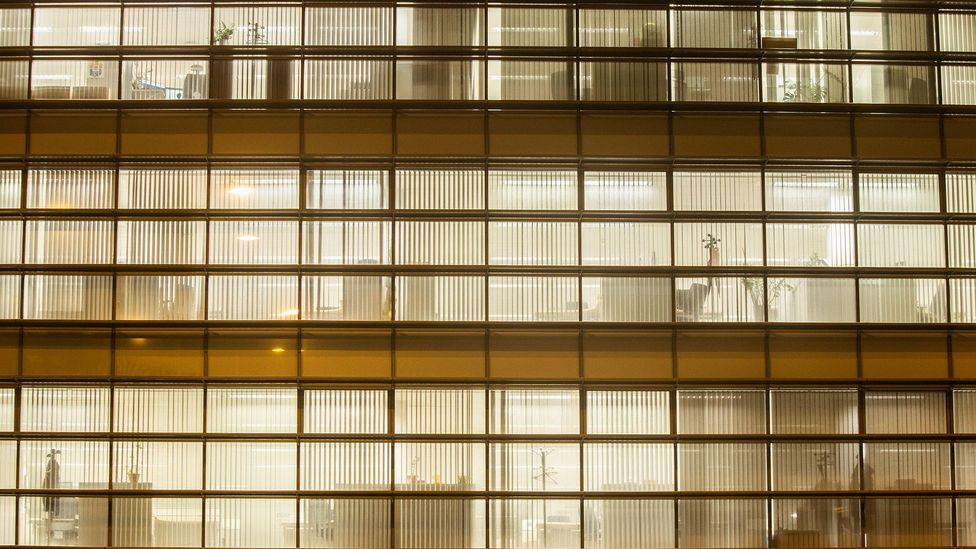 Use of office space, as well as its design, could change in the near term. But it could even change in the long term too, once the pandemic subsides (Credit: Alamy)
The algorithm is reactive; it responds to employee's requests for office time rather than calling particular individuals or departments into work. It's also designed for situations when demand for office use exceeds supply, and at this point not that many people are ready to go back to the office, says Colacino.
"The hardest part is reconciling the perspectives of all the employees about what it means to be 'safe' when we have limited and conflicting data about the transmission of the disease in the office environment," says Colacino. "When the studies have been completed correlating Covid transmission and office planning and design, we will have at least some basis for making decisions. Right now it's mostly: 'you do what you feel comfortable doing', and even with a great workforce (like we have), you can't run a business entirely through laissez faire."
Reinvention, re-evaluation
Alex Alonso, an organisational psychologist and chief knowledge officer at the Virginia-based Society for Human Resource Management (SHRM), says the most popular question by far right now from HR managers is how to get everyone back to the office in a way that's safe and fair. He says the right solution will look different for every company, and that innovation is key.
"If the intent is to reinstitute what you had, you're going to find that that's fool's gold, because it doesn't exist," says Alonso. "What people who are thriving in this environment are doing is saying, 'How do I make my culture succeed so I can reinvent my enterprise?'"
Algorithms aside, he suggests one option is to consider offering incentives to employees who are willing to work staggered or non-traditional schedules. And if the schedule can't be flexible, companies could also consider getting creative with the space; after months of Zoom calls, a masked and socially distanced outdoor gathering could be a welcome alternative to more virtual work.
If the intent is to reinstitute what you had, you're going to find that that's fool's gold, because it doesn't exist – Alex Alonso
As Colacino points out, letting employees decide what works best for them may not be the ideal long-term outcome for businesses. Leaving the choice of whether to come to the office entirely up to staff could also have unintended consequences that can further workplace inequities. If children can't go to school, one parent has to stay at home with them – a task that has disproportionately fallen to women in the pandemic. If employees in groups at high risk of Covid complications are told to stay at home, that disproportionately affects older workers and black and Latino workers. Yet in-person time in the office is correlated with promotions and advancement.
Workers at the Texas Emergency Operations Center in Austin in August. Some workers must continue to show up in person in an office, even during Covid-19 (Credit: Alamy)
Companies grappling with how to assign limited office space should be sure that any system they come up with has input from all employee groups it might affect, says Karen Mangia, vice-president for customer and market insights at Salesforce and author of the book Working From Home: Making the New Normal Work for You. With things changing so rapidly, she recommends re-evaluating policies every quarter, so that they are more limber. "What's critically important … is to have a variety of voices at the table helping to design those programmes," says Mangia. "Even with the best of intentions, we only solve for what we know."
At SquareFoot, the algorithm remains a work in progress. "We would be fooling ourselves if we thought we could design this a priori to be perfect. So we will be meeting up every couple of weeks as a management team to reassess and rebalance as needed," says Colacino. "The beauty of this system is that the weighting can change without the algorithm having to change."
With all the change that companies and employees have weathered in 2020, certainty about anything – even if it's just knowing when a desk is free – could be a welcome fringe benefit. "Workers are admitting that the stress levels are higher than ever because they don't know when they'll go back and what it will look like when they go back," says Alonso. "It's a level of tolerance for ambiguity that quite honestly we have not had to deal with in quite some time."