Workers are heading back into the office, but men and women may not return to their desks equally. This could impact gender equality and advancement, keeping women behind in the workplace.
A
As workers trickle back into offices, some will face tough choices about when and how to return to their desks. Although certain familiar faces and routines may reappear – it's back to bumping into Iain from accounting at the coffee machine – the composition of the workplace could also be significantly altered. With many companies expected to offer employees newly flexible and hybrid formats, given the option, women and men may make different decisions.
A recent UK-based poll of 2,300 leaders, managers and employees showed that 69% of mothers want to work from home at least once a week after the pandemic, versus just 56% of fathers. If more men opt to go back to work in-person while more women choose to work remotely, offices might become increasingly dominated by men.
And although it's unlikely that office workers will comprise only men, these figures point to a possible scenario in which women truly could occupy relatively few desks. This scenario could intensify gender inequality across the spectrum by reinforcing domestic roles, and stalling women's earning potential and prospects for career advancement – many of which are positively correlated with in-person work.
While there are certainly benefits to giving flexible options to workers who can do their jobs from home, there's also a risk of widening the long-standing gender gap in housework and caring responsibilities that's already been exacerbated by Covid-19. Understanding the challenges that lie ahead may help mitigate the harmful effects of a post-pandemic gender imbalance at work and home.
A gender gap that's primed to grow
While unpaid household labour has always been a barrier to women advancing at work, Covid-19 has aggravated the situation. Recent studies of British and American households showed that working women have continued to shoulder the lion's share of childcare and household burdens during the pandemic, and more working mothers than fathers have reduced or adapted their working hours to accommodate childcare.
Yet for many women who work remotely, the situation isn't as simple as going back to the office as soon as the option arises.
Women may not feel ready to return to the office, where they need to hide [their] stress as a working professional – Seulki "Rachel" Jang
"Women may feel responsible for handling family-related matters and being away from home may create a feeling of guilt," says Seulki "Rachel" Jang, an assistant professor of industrial-organisational psychology at the University of Oklahoma, US, who has studied gender roles at work. "Researchers also found that women experienced more psychological stress during the pandemic as compared to men, so women may not feel ready to return to the office, where they need to hide that stress as a working professional."
The wage gap is also likely to play a major role in keeping women at home. "Among dual-earner couples, a person who makes less money is more likely to take time off and handle urgent family demands than the person who makes more money," says Jang. "Due to this inequality, women may be more inclined to choose a remote-work option, reduce work hours or even quit a job."
Meanwhile, men may be less likely to suspend or alter their careers if they're the higher earner – or if they feel pressured by societal gender expectations that "men belong at the office and women belong at home", she adds.
The cost of women working from home
Given women's disproportionate share of family responsibilities, it makes sense that they're particularly drawn to the benefits of remote work, such as less time commuting and a more flexible schedule. Yet for all its appeal, working from home also comes with a price tag that's especially steep for women, who already lag behind men in key career metrics like salary and leadership representation – a discrepancy that's likely to grow if men outnumber women in the office.
"Working from home may dilute one's presence at work and attachment to the workplace by limiting interactions and hindering learning, collaboration and creativity," say Claudia Hupkau, an assistant professor of economics at CUNEF, Madrid, and Barbara Petrongolo, a professor of economics at the University of Oxford, who have jointly researched Covid-19's impact on gender roles. "Another question is to what extent high-profile jobs will be doable from home."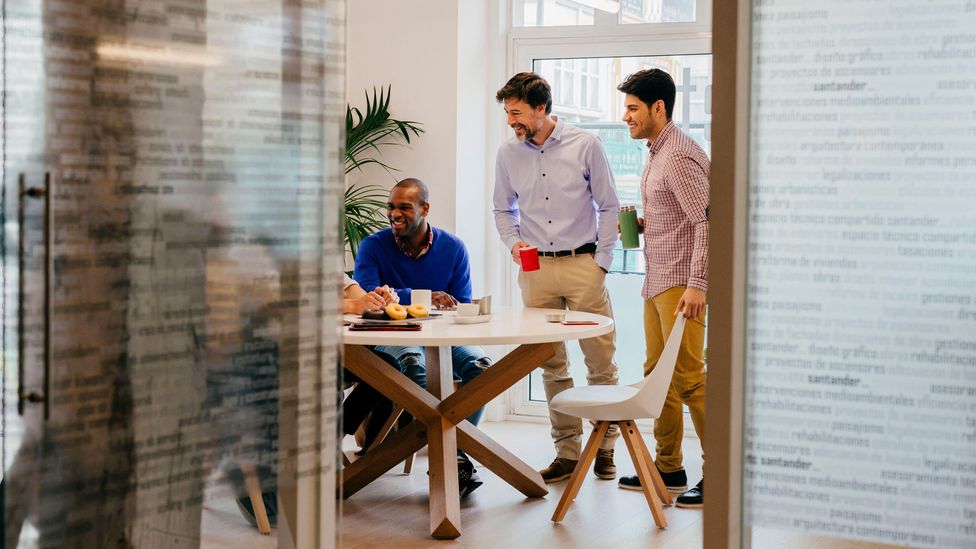 If more women take the option to work remotely, men may have the chance to benefit from being in the office, which could chip away at gender equality (Credit: Alamy)
Jang echoes these concerns, saying if more men return to the office than women, women's career prospects will no doubt take a hit. "Men who return to the office are likely to show higher job performance and recognition, more favourable HR decisions like promotions and raises, more social interactions, more influence and power than women who are working from home," she believes. "These factors can certainly exacerbate gender inequality at work and home."
If more men reap the career benefits of returning to the office, while more women's careers suffer for working from home, we could see a dynamic play out that bears an eerie resemblance to an established phenomenon known as the "fatherhood boost and motherhood penalty", says Annelise Thim, manager of women's empowerment at global sustainable business nonprofit BSR (Business for Social Responsibility), who has researched barriers to women's economic empowerment.
"When men become fathers, their salary increases due to gender bias, with employers [viewing] them as more dependable, and fathers may work longer hours after having kids," explains Thim. "On the flip side, women face a motherhood penalty when they have children, and experience a decrease in their earning potential – one that's most pronounced for low-income women of colour."
In short, if more men return to the office than women, the negative cycle women have been battling for decades – that had begun to slow in the years before the pandemic – may regain steam. Women could lose hard-won traction in their fight for workforce equality.
Fighting the remote work gender gap
In spite of the influx of new challenges the pandemic has unleashed on gender roles at work and home, it's not all bad news.
One benefit of the last year has been the rapid normalisation of remote work, which could ultimately work in women's favour. "The pandemic has made working from home less stigmatised, thus more men than before are willing to make use of it," say Hupkau and Petrongolo. The more this happens, the better, as it can make remote work an increasingly gender-neutral realm.
If more men return to the office than women, the negative cycle women have been battling for decades may regain steam
In addition to men joining the remote workforce, there are proactive strategies workers can take to fight inequitable gender roles at home and work. "Dual-earner couples should consider adopting gender-egalitarian strategies in remote work decisions and division of labour," says Jang. "For example, couples may want to alternate their workdays to have a fair division of labour at home." Research shows that tactics like these can also improve such couples' performance and wellbeing, she adds. Of course, not all households are headed by heterosexual couples, nor couples at all, which may complicate this approach – and any steps taken by individual workers will only realistically go so far, given the deep-rooted systemic failures that cause gender inequality.
That's one reason why experts emphasise that the onus is largely on organisations to reduce the forces contributing to an office gender gap. Effective strategies could include imposing a uniform policy in which all employees take an equal number of work-from-home days, providing more workplace childcare options and facilitating cohesion and trust among remote and office workers.
On a societal level, there should be laws preventing discrimination against remote employees, and public-care services that support parents in balancing family and career. These may all seem like minor battles in the war against gender inequality and ingrained biases, but each win matters.
"Educating and bringing attention to enlarged gender inequality during the pandemic can take us one step closer to reducing unconscious bias in gender roles," says Jang. "I am hopeful that the gender stereotypes that women should do more household chores and take care of children at home can be mitigated in due time. Unconscious bias is strongly ingrained in us, but that doesn't mean that we can't overcome it."