Some workers are calling for full-time remote work situations. But even with the chance to permanently work from home, some younger employees want time in the office, too.
T
The youngest employees in the workforce are being pulled in two different directions.
On one hand, of the groups that seem most primed to work remotely indefinitely, Gen Z leads the pack. They're digital natives who seamlessly understand new productivity tools; it's natural for younger workers, say, to communicate via DMs or video chat, technologies that some older groups have had to catch up to learn. Working from home – or other far-flung locales – seems a natural fit for this group.
However, as some workers push to stay entirely remote for good, Gen Z is not leading the charge – instead, they're among those looking forward to a return to the office. This isn't wholly surprising; among many reasons, Gen Z have missed out on some of the early career-advancement opportunities, while being stuck at home during the pandemic. But, at the same time, data shows they're not entirely keen to take to desks daily.
Instead, they're the group most eager to land squarely in the middle. A recent McKinsey & Company study on workers' hopes for the future shows that 18-to-29-year-olds are most interested in a hybrid work set-up, working two to three days a week from home, and the rest in an office. Of this group, 48% said they'd prefer hybrid work. While other workers do want to hybrid set-ups – 44% of 30-to-49-year-olds, and 38% of workers 50 and older – Gen Z most wants a foot in each world.
While older generations grapple with the return to office in different ways, more than any other group, these younger workers see the upside in hybrid set-ups.
Too many upsides to pass on 
Young workers have conflicting interests, says Susan Lund, partner at McKinsey & Company, and a leader of the McKinsey Global Institute. "On one hand, they're what we call the 'digital natives' – they're more technologically adept," says Lund. "But on the other hand, of course, they don't have the networks, they don't have the experience and the mentoring." And while all workers appreciate opportunities for socialising, says Lund, younger workers may especially need them while growing into their careers.
Findings from a recent study from US-based Springtide Research on Gen Z's thoughts on the future of work chime with this: fewer than half of those surveyed said they felt they had a work mentor. And when broken down by race, more than 40% of those who did were white.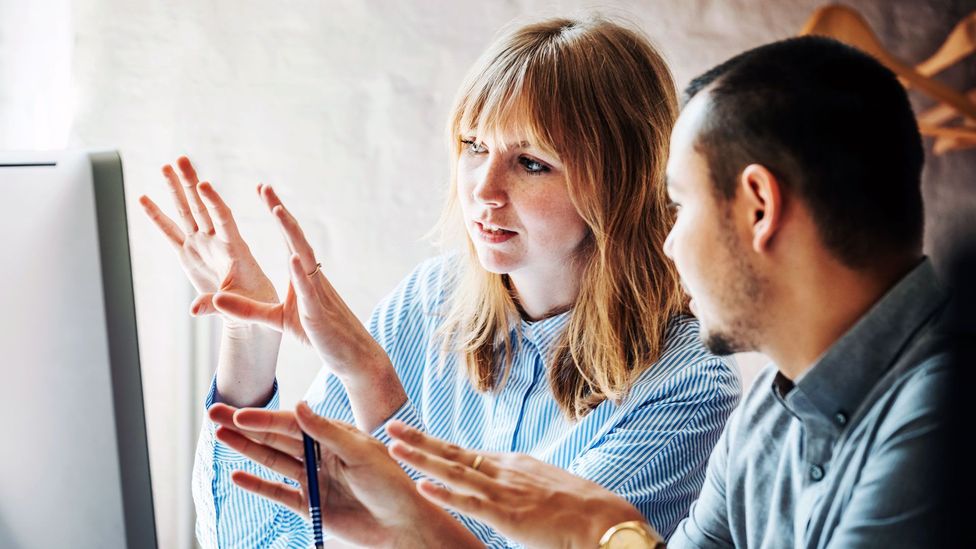 Younger workers are missing the opportunity for mentorship and social connection they'd be more likely to get while in the office (Credit: Getty Images)
This gap of natural development in worker identity and personal networks is a driving factor, experts suspect, in why Gen Z would want to spend at least some time in the office.
"One reason they prefer hybrid work is because they are at a stage of discovery: many of them are still trying to get to know themselves, form an identity, so they're more open to explore more options, which is easier when you're moving around rather than being tied down to one thing," says Eugene Ohu, senior lecturer in the Department of Organisational Behaviour and Human Resource Management at Lagos Business School, Nigeria. "Hybrid work is therefore a typical representation of that discovery."
Even the physical space afforded at work is a draw for Gen Z, many of whom are cramped in apartments or shared spaces, where working might not be comfortable without the option for an at-home workspace. Both Ohu and Lund point out that the dynamic of working exclusively from home is one that most benefits people with more financial comfort, who are more likely to be those further along in their careers.
"It's tough when you're living in an apartment, maybe with roommates, in an expensive city like New York or London, you've got not great living conditions," says Lund. "It's one thing for more senior people, who already have their networks within the office, and their professional networks, and their suburban house with an office to work from, but it's something entirely different when you're just starting out."
An opportunity for optimal work-life balance – something many workers are struggling to define in the wake of a year of primarily remote work – is a factor, too. Research has shown that the Covid-19 pandemic forced workers to see work as less of a priority, and hybrid work allows for the personal curation of work-life balance – something Gen Z wants in spades. Although it may seem that more time at home could actually help workers find balance, the pandemic has actually increased the average length of the workday by almost a full hour, and workers are finding themselves answering email and messages at all hours. However, being in office can help younger workers create that hard line between work life and personal life that Gen Z craves, while leaving the option for remote work encourages the flexibility and independence that experts say Gen Z expects. 
It's a bit counterintuitive, because one would have expected that they would prefer to work remotely, but this social dimension is very strong – Eugene Ohu
The professional benefits are all important factors – but the social aspect of work is also key to understanding Gen Z's eagerness to get to a desk. "It's a bit counterintuitive, because one would have expected that they would prefer to work remotely, but this social dimension is very strong," says Ohu. "They are more looking for new friends, new opportunities."
During the pandemic, this appeared in the struggle to translate the "college experience" to a fully remote version, and why many students chose to wait to attend university until they could be in-person. "There's something that makes work more interesting and more challenging when it's done alongside others," adds Ohu. "Hybrid work makes that possible."
At least some flexibility 
If the pull of office benefits is so strong, why, then, are younger workers keen to cling to some remote days, too? 
Experts say hybrid work enables workers to exert more control over their days, while reducing burnout triggers such as long commutes and expenses like buying lunch. Working "on workers' terms", as Ohu puts it, is taking on increased importance in the post-pandemic workforce, where workers' priorities may have realigned around personal responsibilities. This contributes to the reasons why there's an overwhelming push across generations to retain at least some remote-work days.
While Lund sees what she calls this "job autonomy" as a new, integral piece of the future of work across generations, she also mentions how important it is for Gen Z to have some degree of agency to work where they want, too – even if they don't want to work away from home entirely.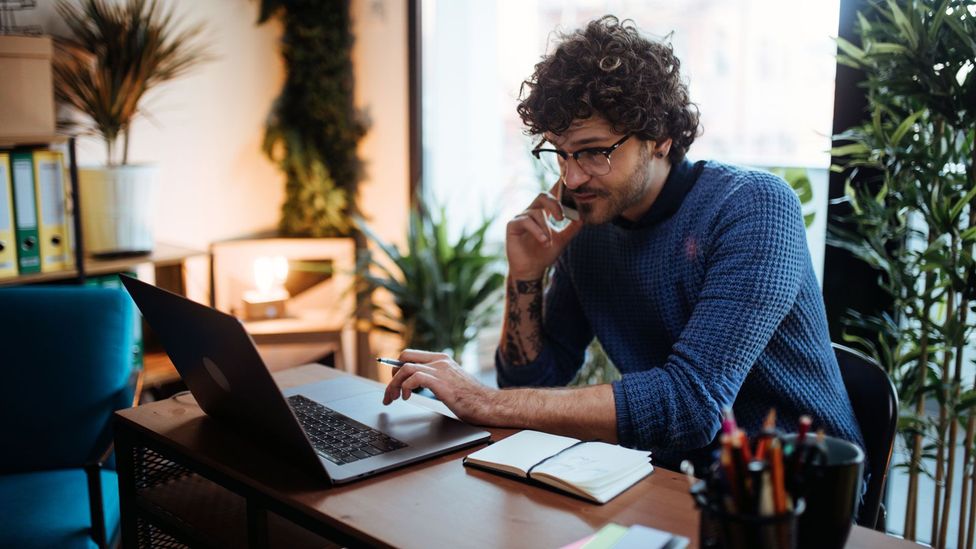 Younger workers still want to have some control over their time and ability to work where they want (Credit: Getty Images)
New York City-based Isabelle Lichtenstein, a Gen Z worker in the media industry, is among the younger workers who favour hybrid work. "During the pandemic, I think we all got a sense of how exhausting and isolating remote work can be when done for an extended period of time – something that Zoom calls can only really put a Band-Aid over," says Lichtenstein.
But she agrees that the flexibility and autonomy both Lund and Ohu identify is also a high priority. "I also think that being able to work remotely allows for more flexibility not just in location, but in productivity and creativity. Remote work feels like you have more of a choice in how you work, because you don't have anyone breathing down your neck about it. It's just about getting work done and showing up digitally when necessary."
Perspectives like Lichtenstein's show that, despite their comparative lack of workplace experience, Gen Z is taking a considered, practical approach to the future of work – one that may pay dividends in providing an ideal atmosphere for productivity, mental health, creativity and avoiding burnout. If their preference plays out as they hope, younger workers could even provide a template for workplace success in the future, as organisations figure out their long-term arrangements.
Despite the condescension often directed towards younger generations – associating millennials with avocado toast, Gen Z with Tide Pods – young workers' interest in hybrid work shows their pragmatism. They're smart enough to perceive the value of both models and recognise what they want, rather than being seduced by all-or-nothing scenarios.
"To me, the hybrid work model meshes the best parts of office work with remote work," agrees Lichtenstein. "In my eyes, a hybrid model is one that allows workers to figure out what best works for them... The ideal hybrid work environment for me allows employees the flexibility to find what best serves how they work, and to implement that with the support and resources of their employer."